Dr. D

7344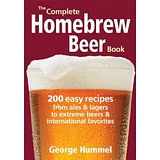 The title of this book is ambitious, and the author's credentials are certainly impressive enough to back up the book's claim to completeness. George Hummel is a home brewer and writer from Philadelphia. His shop, Homebrew Sweet Homebrew, has been located in the city since 1986 and both his beers and writing have won numerous awards. Don't be fooled by the title though, this book is not a complete guide to the art of brewing aimed at the established brewer. Instead, it's aimed very much at the novice brewer. Simple and accessible, it focuses exclusively on extract brewing. With 200 recipes from ales and lagers to extreme beers and even ginger ale, George Hummel may have written the complete guide to extract home-brewing.

James Keane

9058
Having previously told us about Bateman's of Wainfleet, James Keane was back in England this summer and took the Meet the Brewer tour at the Old Brewery premises of the Meantime Brewery in Greenwich, London.
We arrived to Greenwich and we had a look around the Old Brewery bar and restaurant. The premises are shared with a historical centre. We arrived a little early and took a good look around. Our initial impression was that no brewing was taking place here at all and that this was a flagship bar used for publicity and marketing. Happily we were soon proved wrong!
TheBeerNut

6314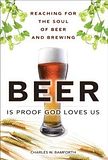 Professor Charles W. Bamforth is the author of several books on the science and history of beer and brewing. His Lancashire roots, long career in the industry and current role as Anheuser-Busch Endowed Professor of Malting and Brewing Sciences at the University of California have led to some interesting perspectives: while very much concerned about beer quality, he has no truck with the notion that this is the exclusive preserve of small-batch breweries. And though steeped in the Real Ale traditions of Northern England he has an appreciation of all kinds of beer from around the world, a believer in consistency and good presentation as much as flavour.
a_friend_in_mead

15328
Is there a new beer in town? A purely Irish drink from the Irish craft breweries that we can claim as our own?
The BeerNut first described Galway Hooker with "The makers claim 'Irish Pale Ale' is a new genre, which I was a bit sceptical about but now I can see where they're coming from. This has a touch of the caramel of the classic Irish red, but also a whole lot of the green, vegetal hops of the textbook IPA."

This distinct vegetal hops and hint of caramel I claim marks out many of the new Irish ales. Other wiser heads from Beoir disagreed but, showing an impressive resolve to both prove me wrong and to drink beer, they agreed to come along for a blind test.