Irish Party Ale

10018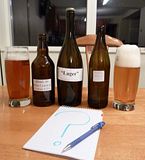 After the inconclusive previous rounds of testing for Kit v Extract v All-Grain (round 1; round 2), it was decided to have a third round, for the purpose of answering such crucially important questions as:
1) Can you tell the difference between them?
3) Do old kits taste different to new kits?
4) Do beards really help?
In order to make it completely bullet-proof we went for a beer where off-flavours had nowhere to hide: a light lager-like ale. What could possibly go wrong?
Read more: Kit vs. Extract vs. All-Grain III: Battle of the Blondes
TheBeerNut

18765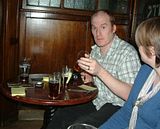 It's a style that is quintessentially ours, yet is recently evolved from a foreign progenitor. It has been a mainstay of dumbed-down Irish macrobeer for decades, yet has seen a revival at the hands of newer craft breweries. Just what is the story with Irish Red Ale?
Late last year, a small group of us gathered in the Dublin pub with the best selection of reds, plus one British keg bitter, to find out via blind tasting if the microbreweries really are doing a better job, and if the Irish Sea really does mark the boundary of the style.
CorkBoy1

8725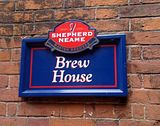 I am a somewhat frequent visitor to Kent so I thought I should take the time to visit Faversham and the oldest surviving brewery in the world, particularly since I do enjoy many of their offerings and eagerly await the start of each new season for the seasonal specials. However I was aware that not everyone on the IrishCraftBrewer site is a fan and that the burning question for some time has been: why clear glass in the bottles and not brown to avoid skunking?

Armed with my ICB t-shirt and my brother-in-law for moral support I showed up at the visitor centre on Saturday morning. The tour starts, as many of these things do, with a short video presentation on the history of the site and brewing in Kent. The guide then elaborated that it had been thought that brewing started here in 1698 but recent papers discovered had shown brewing taking place on the site as far back as 1500.
Barry Masterson

8145
Welcome to the new Beoir.org website.
Launched on July 1st, 2010, Beoir is an independent group of consumers which seeks greater choice, quality and value-for-money for beer and cider drinkers on the island of Ireland. Our primary goal is to support and raise awareness of Ireland's native independent microbreweries and craft cider-makers. Additionally, Beoir promotes and encourages amateur craft brewing, and the making of other fermented beverages. It seeks to assist amateur brewers in improving the quality of their end product through the sharing of information. Beoir.org is now the on-line presence of Beoir, providing a place for those interested in supporting Ireland's native micro breweries to join a community of like-minded people, and play a part.
Beoir is a natural development out of the former IrishCraftBrewer.com (launched in March 2007), an on-line community for beer lovers in Ireland. At a high level, IrishCraftBrewer.com was about appreciating good beer, and promoting choice in Ireland. Although not officially organised as a campaign, members of the IrishCraftBrewer.com community raised awareness of quality beer and brewing in Ireland appearing on TV and radio shows as well as in the printed media. By setting up Beoir, the intention is to become more organised with these activities, and to further increase the awareness and appreciation of locally-brewed beer.