TheBeerNut

6371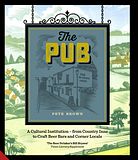 English beer writer Pete Brown is probably better known for his matey-blokey beer history and travel books, like Hops & Glory (the definitive story of IPA) and Shakespeare's Local (a history of one not-so-well-known London pub). His latest is a rather different format, however. The Pub, subtitled "A Cultural Institution - from Country Inns to Craft Beer Bars and Corner Locals", is a glossy, lavishly illustrated, coffee-table job, highlighting 50 different pubs around the UK.
It's more than a work of pub pornography, however. The book also has a practical remit, documenting an additional 250 pubs to the ones featured, so despite a total lack of portability it also has a very useful reference function. If you're going to a specific part of the UK and looking for particularly pretty or otherwise noteworthy pubs to visit, this book is of real help. The pubs are set out region by region with a couple of exceptional examples given a double-page spread of photographs and Pete's personal account of the place. These highlights are interspersed with single-paragraph descriptions of other pubs in the region, all with details of facilities available, address and contact details.
Saruman

5529
The Irish Craft Beer Festival is back this September and is bigger than ever with over 50 brewers, cideries and distillers.
As usual, Beoir members receive a 50% entry discount at the door with a valid, in date membership card. If you want to try and win tickets to the event, keep an eye on the social media. The Beoir Twitter and Beoir Facebook accounts will have a competition each weekend for a pair of tickets. That's a chance to win on both Facebook and Twitter so keep an eye out on Friday to Sunday for details with the winner on each platform announced on Monday. We will run the competition this weekend and next weekend.

If you wish to volunteer, check the Beoir Member forum for details.
Tickets are available here for non Beoir members. Beoir members wanting to avail of the discount, do so at the door.
Reuben Gray

8031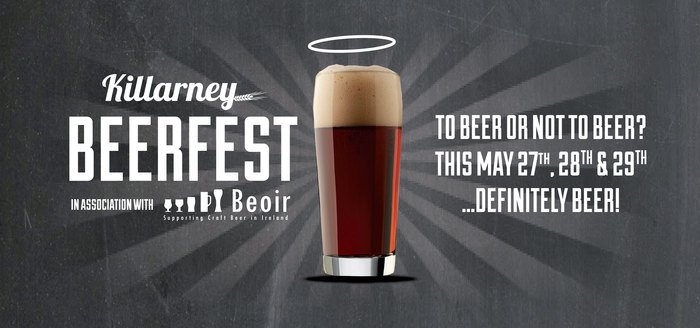 Here are the results of the Killarney Beer Awards for 2016. We had 165 entries which was more than double compared to last year.
Judging started on Saturday at 11am and the final round was completed by 7pm. A massive thanks to Kellie Dawson and her team of stewards who worked the mammoth task of preparing the bottles on Friday. Kellie worked from 10am until 10pm on Friday categorising bottles. Unfortunately, a lot of time was wasted due to many entrants either not covering up their labels correctly or else not bothering to cover them up at all.
We will have to be more strict about entries next year.
Images from the event can be found on the Beoir Flickr page. Direct link here.
The scores from the first round of judging are being compiled and will be sent to breweries along with their feedback.
Beoir Champion Beer of Ireland 2016:

Kinnegar Brewing, Flying Saucer
First Runner Up:

Trouble Brewing, Stakeout
Second Runner Up:

The White Hag, Púca
Yellowbelly Brewery– Yellow Belly, American Pale Ale

Killarney Brewing – Killarney,

Scarlet Pimpernel IPA

Farmageddon Brewing Co-Op, Farmageddon IPA
Killarney Brewing Company, Spailpín Saison

O Brother Brewing, Huck Saison

Rising Sons Brewery, Mayhem
Yellowbelly Brewery, Fierce Mild

JJ's Craft, Bills Red Ale

Brehon Brewhouse, Killanney Red
Specially Commended: Two Sisters – Brigid's Ale
Specially Commended: O Brother – The Fixer
St Mels Brewing, Springbock

Trouble Brewing, Kill Lager

Manor Brewing, Mont Irish Mountain Beer
Specially Commended: Rising Sons – Sunbeam
Kinnegar Brewing, Flying Saucer

The White Hag Brewery, Black Boar

Trouble Brewing. Dark Arts
Trouble Brewing, Stakeout

Kinnegar Brewing, White Rabbit

Hillstown Brewery, The Goat's Butt
Yellowbelly Brewing, The Passion Brewing

The Porterhouse Brewing Company, Louder Barley Wine

Rascal's, Ginger Porter
Specially Commended: White Hag – Barrel-Aged Black Boar
Sour Beer
The White Hag Brewery, The Púca Dry Hopped Lemon Sour

Otterbank Brewing, This is Berlin / Die Wikinger Kommen

Torc Brewing Company, Anything Gose
Stonewell Cider – Esterre Sparkling Prestige Applewine

Stonewell Cider – Stonewell Dry Cider New World Cider

Stonewell Cider – Stonewell Medium Cider New World Cider
Reuben Gray

6003
Last month, Beer Ireland launched their Micro Brewed badge and it has since started to appear on bottled beer and possibly on pump clips too? I'm not sure about that one.
For those that don't know, Beer Ireland is one of the two industry groups that represent craft breweries in Ireland with the other being the ICBI. Don't forget, Beoir represents the consumer and not necessarily the interests of the industry, though the two tend to go hand in hand when it comes to craft beer.
Beoir welcomes an attempt to provide a label that consumers can use to identify a beer as being independent. While being from an independent brewery doesn't necessarily mean the product is better, it does mean that it comes from a small brewery that supports local jobs and industry rather than a foreign owned multinational. One could consider it similar to the Guaranteed Irish badge except that it's more restrictive. At its core, the badge allows the consumer to make an informed choice to support a verified independent brewery.
To qualify for a Beer Ireland Micro Brewed badge, you need to meet the same definition Beoir uses for Irish Craft Beer with the addition of one.
The beers have been produced in a brewery on the island of Ireland.

The brewery is legally and economically independent of any other brewery.

The brewery meets the legal definition of micro brewery.

The brewery owners are professional members of Beer Ireland.
The last one means that the absence of the badge doesn't mean it's not a micro brewed beer, it simply means they are not a member of Beer Ireland and are perhaps a member of the ICBI or perhaps even not a member of any industry group at all. It's also worth noting that the criteria is all about the brewery that produces the beer, not the brand. A contract brand brewed by an independent brewery would still qualify in the same way it qualifies as Irish Craft Beer under our definition.
If you are ever in in doubt, just check the Beoir A - Z list. If it has a green tick, then it is a micro brewed beer and meets our definition.