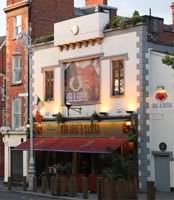 The Bull and Castle, formerly the Castle Inn, is located on Lord Edward Street, just opposite Christ Church Cathedral in the heart of Dublin. The Castle Inn had a long history, but in taking over the old pub, FXB began trying something new in the locality; a Gastropub-style establishment with decent food, a fantastic beer selection and more recently, what may be a first for Dublin, a Beer Hall. I recently met with Geoff Carty, General Manager of The Bull and Castle, to chat about where they are going and what the ethos of this new venture is with respect to craft beers.
I have to admit; I hadn't been on the premises of the Castle Inn in about 12 years or more, and my memories of the place really didn't make me want to go back. But after a colleague had told me about this new Gastro Pub, with great beer-food combinations, I really wanted to take a look. A few ICB members got together in the Bull and Castle at (we later learned) just the right time; about a week after the beer hall had opened! We all had a good time and we were all impressed with the range of beers available. In particular, it was the first time I had tried Goose Island IPA, so I have The Bull and Castle to thank for introducing me to this fantastic beer.
While we were there, Dr. John, well respected ICB member, mentioned to the Assistant Manager, Declan O'Hagan that there was a table of beer geeks in the house, so he duly came over and welcomed us.
A couple of weeks later I met with Geoff and Declan in the warm wooden surroundings of the beer hall on the upper floor. I began by asking Geoff about the history of the Castle, and how they saw the future of the establishment.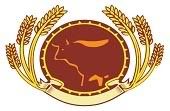 The Castle Inn was bought by the FXB group in October 2003, and it was really then that the transformation began. Owner Des Buckley saw the potential of the location with Christ Church, the number two tourist location in Dublin, just across the road forming one point of the tourist trail triangle which also includes St. Patrick's and the Guinness Brewery. Lots of tourist buses pass by, with many hungry and thirsty tourists stopping off at the Cathedral. There is also a good supply of office workers, and the premises had a large, open plan room capable of seating up to 150 people that seemed perfect for functions.
After about two years in operation bookings for the function room were heavy, and the Castle Inn was transformed into a medieval-style heritage pub with a reputation for good food. And why wouldn't they have that reputation? FXB is unique in that the family own a farm in County Offaly, so when it comes to its meats the farm-to-fork trail is about as direct as it gets! So, the new Steak and Seafood a la carte menu proved very popular and a departure from the usual 'pub grub' that is so common in most Dublin pubs. So far so good, although probably fairly safe in scope.
Around mid 2006 Geoff moved from Ryan's of Parkgate Street, another FXB-owned pub he managed, and a further transformation of the Castle Inn was begun; it was to become the first real Gastro Pub in Dublin City.
I had to ask what was meant by "real" because, as even Geoff pointed out, there were already several successful bars describing themselves as Gastro in Dublin City, including the Market Bar and the Schoolhouse. By "real", he meant that the Gastro and Pub elements are inextricably linked. The beer itself forms an important part of every dish. Indeed, the majority of the dishes on the Gastro menu do include a beer in the ingredients, being important components in sauces and gravies. Not only that, but every meal comes with a beer chosen to compliment the food itself. Geoff and Declan obviously spent many hours of tough research helping put the original menu together! At the time they had a 30-strong beer list, and they found that it was growing alongside the food menu.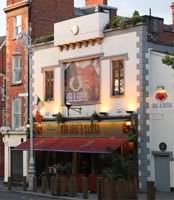 Tying in with the change in focus from medieval-style heritage pub to Gastro Pub, the Castle Inn was also renamed to The Bull and Castle, really marking the change. The new menu proved very popular with theatre goers, tourists and workers in nearby offices. As they began coming in more regularly and being exposed to the wide selection of beers in tandem with good meals, they were tending to become more adventurous, further fuelling the desires of the management to do something even more special.
I have to say, just by talking to them I could tell that Geoff and Declan are both beer enthusiasts, and the next step they took really is a mark of that passion. They wanted to do something unique in Dublin, and while it seems they had lots of ideas, the idea of a Munich-style Beer Hall was one that was to the fore in their minds. They went to Munich for three days and did a tour of Bierkeller to look for ideas. They also liked the ideas behind Lowlander in London, but felt they had to do something with a twist to cater for the different culture and tastes of the Irish, and the wider tastes of the tourist market which was important to their business.
So, in March 2007 the Beer Hall was opened in the former function room of the Castle Inn. This was a big step for the group as the function room was always a success, but the feeling seemed to be that it was a valuable space that could be turned into something special.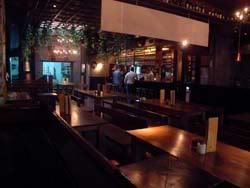 The room is large and it feels quite airy when you are up there. Everything is in wood, lending it warmth even in such an open room. At one end is the cold room with a large window allowing the customers to see the kegs of beer and shelves of bottles. While the tables and benches are not as long as you might find in some German Bierkeller, they seat eight people comfortably and are a change from most Dublin bars. As Declan pointed out, groups of people often have to share a table and while at the start of the night they're almost leaning away from each other, things generally warm up and people actually start talking to other people, so it's a bit more social than the pubs that only fit two or four to a table. Sounds good to me! There are two plasma screens upstairs which they admitted were a concession to the punter who might want to watch a match. But, the volume is kept low and they are only on when there is an event. I like this a lot, as I'm not very fond of TVs in a pub. I really feel they kill conversation.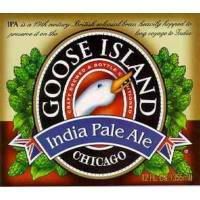 The beer list in the Bull and Castle currently runs to 57 bottled beers and ten beers on tap. I asked Geoff what the criteria was for their beer selection and he answered "Taste!" as the primary concern, followed by the right price and being competitive. While the first 30 beers in the Gastro Pub were selected to compliment the food, on opening the Beer Hall they have some new criteria. Geoff explained that generally they want 30 beers to go with food, 30 for drinking and 10 speciality beers for the connoisseur. They do have to look after the books of course and they constantly review the beer sales. The ten worst-selling beers will get replaced over time with ten new beers.
On selecting their tap beers they needed to select brands that people know first, the idea being that, as people get to know and trust the Bull and Castle, they'll have more latitude to change the selection. Having said that, there is little in the way of the big-brand names; they were quick to drop many of the "flavourless mass-market fizz" lagers for a number of reasons, some of which ICB members have speculated upon in the community forum, giving cause for Geoff to smile! Suffice to say that dropping some of the big-brand names probably did have the effect of subtly changing the customer base, making it easier for these beer enthusiasts to move in the direction they wanted to go in.

At the time of writing, beers on tap include Erdinger Weissbier, Budejovice Budvar, Staropramen, Krombacher, and two beers from Cork's Franciscan Well brewery; Blarney Blonde and Rebel Lager. They wanted to have quality Irish beers on tap and after being impressed by head brewer Russell and the Well's brewery itself, chose that path. They did consider re-branding the Well's beers like at least one other Dublin pub does, but decided against it as it was a well known Irish brand in its own right and it sells very well. They are still open to having more Irish beers on draught, which is good news from the point of view of IrishCraftBrewer.com.
The draught beers are sold in three sizes of glass, Klein (0.3 litre), Helba (half litre) and a one litre Stein. They also plan on having a guest tap, although there are no concrete plans at this stage for what those beers may be (I did ask though!). I should mention that they seemed to go to a lot of effort to get their glasses just right, shipping in several thousand from Germany. And very nice they are too!
One thing that will hopefully make this place stand out for the beer aficionado is the staff. Staff members of the Bull and Castle are encouraged to learn about the beers they are selling. Geoff feels that it is important for his staff and the customer to be educated together, hence the explanation of Beer types included in the menus. These provide nice simple descriptions of exactly what a Pilsner, or Weissbier, or Trappist Beer, or Alt beer is, and what foods they go with and why. I also got my hands on their "training manual" which explains to staff what the pub is about, and the three criteria they use to create a new Gastro dish;
Common style ingredients in the food and complimenting beer

Perfect combinations

National dishes using tried and trusted formulae
The fact that staff also drink on the premises on their nights off is also testament to the ethos that seems to be driving The Bull and Castle. In fact it was Declan's night off when I met them, but as he said, "If you can't drink in your own bar, how can you expect anyone else to".
I think one thing that Geoff said sums up what they are doing in a way that beer enthusiasts like ICB members can appreciate:
"We've been given a chance to do something different in the drinking scene in Dublin. It's a passion, and it makes it easier to come to work in the morning"
I wish them luck in their venture, and if you get a chance to pop in, do so, and sample some good food and some really good beers!

Discuss this article in the forum.
The Bull and Castle can be found at:
5 - 7 Lord Edward Street
Christchurch
Dublin 2
Tel: +353 (0)1 475 1122
Fax: +353 (0)1 478 0663
e-mail: This email address is being protected from spambots. You need JavaScript enabled to view it.
www.bullandcastle.ie