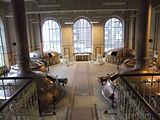 I report on my recent trip with TheBeerNut to Leuven for the (main) purpose of acting as Beoir delegates at the 47th EBCU (European Beer Consumers Union) meeting. I was unable to fly to Brussels until the evening of Thursday so by the time I arrived at the first venue of the weekend (M-Café) the delegates had assembled and were at an advanced stage of sampling the beers on offer. It is a wake-up call when you get to a country like Belgium and find a museum café that has 80 different beers on offer!
The following morning we assembled at 8.30 to walk to the Stella Artois brewery for the EBCU meeting.
We were hosted by AB Inbev at their conference centre located in their former brewery (from 1926). The meeting started at 9 and there is a brief presentation of the proceedings to be found in the Beoir Member's Area on this site. We were provided with an excellent lunch (and free Stella and Leffe Bruin on tap). Following this, we were given a tour of the old, and then the new (current) Stella Artois brewery before adjourning to their hospitality bar for a couple of glasses of Stella.
Later that evening, we were due to meet the other delegates for dinner at Domus restaurant and microbrewery to mark the retirement of outgoing EBCU Chairman Terry Lock, but we managed to sample two other Leuven cafés before that. These were Wiering and the excellent Metafoor. We had a set dinner menu with beer at Domus, the two beers being Con Domus (I kid you not!) and Nostra Domus to accompany the two courses of mushroom soup and stoofvlees (beef stew made with beer). After dinner the group dispersed and so TBN and I hit Café Belge and later Blauwe Kater for some more beers. As part of the Zythos beer festival, 14 bars in Leuven took part in the"Extra Muros" event – meaning that they each stocked a beer not available at the Festival that they don't normally carry and is unique to them. The more dedicated beer tickers can visit each bar and collect a badge as proof of their visit!
No lie-in was allowed on the following morning either as we were to get the 8.58 bus out to the Brabanthal for part 2 of the EBCU meeting and also attend the 10th Zythos Beer Festival. It was interesting to walk through the enormous hall and see the final preparations for an event of this huge size. Not surprisingly, the attitude at the meeting became more focused and business-like especially after 12 noon when the festival opened for the day and the noise of people enjoying beer reached our ears. As delegates, we were presented with a festival programme, a food voucher and three beer tokens. We were allowed a further 2 tokens when we showed our Beoir membership cards at the information desk. There were 102 stands (some shared) at the festival with roughly between 2 and 10 beers from each brewery. It was hard to know where to start! There was a great atmosphere at the event, and several people spoke to me in friendly terms when they observed my Beoir T shirt. The festival became really busy about 4pm and after standing for several hours, I decided to head back in to Leuven on the free shuttle bus and left TBN to fly the Beoir flag on his own.
After a quick change back at the hotel, I walked around the city for a bit before having a croque-monsieur and beer in Blauwe Schuit. Feeling myself again, I parked myself on a bar stool in Metafoor again and enjoyed some brilliant beers. The staff were so friendly here and one barman asked me if I would like to hear the story of the new Nivoo beers that they were carrying. The beers were basically a recipe from a home-brewer who had designed them to brew for his daughter's wedding. He unfortunately died before the wedding but his recipes were found and his daughter convinced the local Anders brewery to brew them. I was joined after a while by TBN who was on the Rodenbach to refresh his taste buds We were later joined by the Finnish delegates for further beers and fun.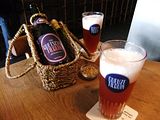 The following (Sunday) morning was less rushed than the previous two and we took an 11.30 train in to Brussels. After a coffee stop, we went to Moeder Lambic Fontainas where we relaxed over a few beers that included Tilquin Quetsche à l'Ancienne, a delicately flavoured plum lambic. We then paid a visit to the atmospheric La Fleur en Papier Dore (which René Magritte allegedly frequented) for a Girardin gueuze and some cheese before a brief trip to A La Bécasse for a couple of jugs of their specialité; Lambic Doux. With two clay pots of that put away it was off to the airport and home.