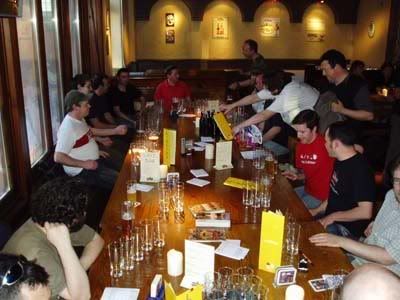 Such was the anticipation felt by many for the second IrishCraftbrewer.com "Meet and Taste" session that many of the attendees turned up before the appointed hour of 7pm. The venue was the Bull and Castle Beer Hall and the area for the event had been well prepared with a large table reserved. There was another table adjacent laid with a white table cloth and what seemed like 500 glasses for the tasting! Before proceedings began, people stood around chatting and having a "warm up" brew. Blarney Blonde on tap seemed to be a popular choice. It was great to see that several had travelled long distances for the evening, including from Athlone, Waterford, Cork and Mayo! It was also good to see a good number of "non-brewers" in attendance.
We were then invited to collect 5 glasses and sit for the first tasting of the evening. Geoff and Declan (from the Bull & Castle) joined us. The beer style chosen for the first half were Weisse/Wit beers. First up was Séan's weisse weighing in at 5.2% ABV. Most people chose to take tasting notes using the prepared forms that were later passed on the brewer. By the time Noby's (Cormac) brew was produced, the numbers had swelled to almost 30 enthusiastic participants. The weisse brewed by Hendrixcat (Thom) added plenty of excitement to proceedings as the bottles opened with an impressive surge! It was christened by some "Volcano Weisse", but was generally regarded as being one of the best brews of the night. Next up was a glass of Erdinger for comparison. The ICB brews fared very well against the popular German commercial brew. There was plenty of discussion about brewing techniques, malt and yeast strains at this time, all much too technical for folks like me.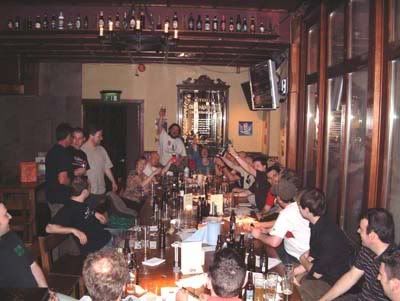 To complete the first half of the session, Barry (Adeptus) and Kieron (n1mbus) opened their "After Dark" Wit and Séan provided his "limited edition" Wit. Then we had a feast of finger food from the Bull & Castle kitchen; crostini, cocktail sausages, chicken wings, onion rings, chips, salad, and crackers with salmon mousse and with an excellent cheese. All this was washed down with a glass of Watou Wit (on tap).
The second half opened with a very impressive IPA from Ken followed by another fine example from bigears (Níall). As Barry and Kieron's Cascade IPA was opened, one or two participants were starting to flag a little (probably due to over-taxed taste buds!). HapyAcid treated us to a surprise guest beer, the Brew Moon Hophead IPA, most of us never having sampled this New Zealand beer before. Our comparison beer this time was Galway Hooker IPA. Last up was a treat of a bottle of Goose Island IPA from Geoff and Declan. What a finish!
On the beer side; all brews sampled showed a range of tastes within the styles, but shared a common very high standard. Many were clearly as good as commercial brews available. And as a social event, it was an extremely enjoyable night with a great bunch of people. It was great to be able to put more faces to the names. IrishCraftBrewer.com goes from strength to strength!
John Stephens 20.07.07
You can view photos of the night here.