The imminent departure of Site Admin Adeptus (Barry M) for Germany prompted the Bull & Castle management to suggest a tasting night / going-away party in the Beerhall. And so it was on 7th February that about twenty brewers and drinkers gathered to share some homebrew and assorted commercial beers of interest. The house laid on a generous spread of cold meats, cheeses, breads and olives which all agreed complemented the beers beautifully.

The tastings followed a freeform pattern, with each brewer presenting their wares in turn.
Hendrixcat went first and offered a tasty, hoppy golden ale and a powerfully oily IPA made with Cascade plus several other hop varieties. He also presented one of the best porters I have ever tasted: rich, silky and brimming with coffee flavours -- the sort that would make Fuller's quake and Meantime hand in their mash tuns.


Bigears stepped up to the plate next and answered the question: what happens when a malty brown beer is made by an unapologetic hophead? The result was Ignatius J: amber coloured and chock full of biscuity crystal malt flavours, with a big and aromatic Amarillo punch on the top. It was served from both clear and brown glass, which allowed a comparison between the two versions and the detection (by me and Hendrixcat anyway) of a small lightstruck off-flavour from the clear-bottled edition. Bigears also gave us his Chinook Porter, a hoppier version of the better class of dry Irish stout.

Adeptus and N1mbus presented five beers from the Larkfield brewery including the legendary Larkfield Mulligan 2, the mature Dark Belgian (now in its second year) and the mutant New Peculier, which turned out rather more Belgian than intended. We also had Larkfield Bomber, a rather slight English-style IPA, and the tail end of the 1783 Revolution Pale Ale, a sessionable and moreish beer which has matured wonderfully and shed the off-flavour caused, we believe, by a lack of secondary fermentation.


The award for innovation on the night goes to Freedgull. He started us off on a most amazing mead, packed with orange, cinnamon and raisins and putting me in mind of a Trappist tripel. A superb brew, though tragically too expensive to make on a regular basis. Next we got a sweet and grassy rye stout, and then a little snifter of his strong Cherry Tart stout, a beer with all the roasted qualities one would expect, plus an aromatic fruity sourness, like hot cherry pie. Magnificent.

As we headed towards dessert territory, JoeK gave us his seasonal amber ale, a heavy malty sippable beer, and then trumped it with his afterdinner barleywine: a 10% ABV monster, rich and sticky and satisfying.

The crowd had thinned out at this point, so only the truly dedicated sponges got a taste of Marceldesailly's cider: a sweet and cloudy brew which would go down wonderfully in the summer sunshine, but worked perfectly well in the pub at closing time, too.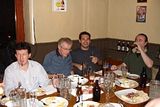 In between tastings, some commercial beers were in circulation as well. I'm not 100% sure of the provenance of everything, so apologies if you don't get the credit/blame for what you brought. Ever the thoughtful gentleman, Kenmc attempted to assuage our envy at his recent travels through South America with three execrable beers from InBev Argentina. The saccharine-sweet Quilmes stout was singled out for particular derision around the table, and one bottle of Quilmes Cristal did the walk of shame, leaving the table with cap intact. A bottle of King Cobra did the rounds and I distributed a couple of bottles each of Brew Dog's ultra-bitter Punk IPA and their still-rather-bitter The Physics amber ale. I also had a single bottle of Rip Tide imperial stout, which quickly disappeared down Bigears's and Ichiban's end of the table, never to be seen again. Our gracious hosts led us in toasting Adeptus with a bottle of Deus, offered around some Hen's Tooth, and also distributed three Whitewater beers -- Belfast Lager, Belfast Ale and Clotworthy Dobbin -- with abandon.

I doubt that the commercial beers on offer were deliberately chosen to show just how good homemade craft beer can be, but that's certainly the impression I came away with. It was a superb night, with some absolutely stunning brews, and wonderfully complemented by well-chosen food. While the freestyle tasting model had its merits, and was certainly easier to organise and faster-moving, I have a sneaking preference for the style-limited format of the July tasting in Dublin, and to that end I propose we do just stouts and porters for Adeptus's next leaving party.

A final big big thanks to the Bull & Castle's staff and management for coming up with the idea, providing food and drink, and for pioneering the twin-strand business model of giving out free beer and letting customers bring their own. Some day, all pubs will be run like this.

Discuss (and correct) this article in the forums.