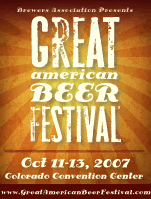 When the lads from Galway Hooker were installing their brew in the Bull and Castle, I quizzed them about their inspiration for producing an IPA. Ronan told me about their experience at the Great American Beer Festival in Denver and said that if I ever got the chance that I should go. I took note and when Jerry Kolbly from The Newport Beach brewery in Orange county visited us in the Bull and Castle and also mentioned the GABF, adding that he could get me a brewers pass for the weekend, I was there!
I met up with the guys from the Newport Beach brewery in the Wynkoop brewery, Denver's first brewpub. I started with their IPA, which was pleasant but nothing special as I had been drinking Fat Tyre from the New Belgium brewery all day. We got to the festival in true Irish style (1 hour late), and I decided that I'd start with the lad's Dead Cowboy Imperial Stout, a winner of silver medals in '97 and '99. I don't know weather my palate was overpowered by all the beer that I drank, but I kept returning to this stout as I honestly thought it was the best beer I tasted all weekend.
Afterwards I went to the Maui Brewing Company to try a coconut porter from Hawaii that I'd heard of. I must say I was very surprised as it tasted absolutely beautiful! The coconut is apparently roasted in an oven in the same fashion as barley normally is. After a couple of more stouts and porters I went to the beer and food pavilion to taste an ESB and raspberry coated BBQ ribs that were divine. This was followed by a Black Pearl stout and a coffee stout that were equally delicious. I had yet to taste a bad, or even average, beer but then came the Chai stout. I realise now when I look back at my photos that I must have been rather drunk at this stage as I never noticed the ingredients. Dead cowboy Imperial stout to the rescue.
It was time to return to the beer and food pavilion for a beer and food tasting. I decided to leave the stouts and porters and focus my attention on the IPA's. Great idea but I can't remember the names of many, Hop juice, Hop rod, Flower Power, the list is endless. I do remember a big queue at the Russian River Brewing Company, and somebody explained to me that they have cultivated a new yeast strain that was for cask conditioning and was only put into the cask at the very end. Very nice it was, but they were out of it in hours.
Day two and the Newport Beach lads had rented a limo to go to Boulder to visit some breweries and invited me along. First stop was to Avery brewery, which pride themselves on the amount of hops that they use. I was very impressed with the tour but equally impressed by all of their brews. Their seasonal stout, Mephistopheles, was so bitter it made me shiver. 15.1% Abv. and 107 IBU's! It took two or three mouthfuls before I could even taste it, and I must say that I enjoyed it then, but 1 glass was enough. We also visited Long Mountain, Red zone and Bull and Bush brewpubs.
The second evening at the festival was more of the same. Lots of different beers and loads of hops. There was a constant hum around the conference centre and there would be a cheer every couple of minutes. I don't know what had happened, but I started to take in my surroundings more on the second night. The buzz was people talking, the loud cheers were when somebody dropped their tasting glass and there was a huge double sided picture of Michael Jackson that hung in the middle of the conference hall. I went for a cigarette and found myself down in the pit, beside all the Porto loos. The queues were huge, I hadn't seen them earlier as I had a brewers pass. Brewers were also allowed onto the balcony for a cigarette instead of having to go to the pit for a fag.
Day three started with the award competition. This was only open to brewers, like myself, and although there were 75 different categories I found this part very entertaining. The Newport lads explained that as the awards were being presented these were the beers that first ran out. They had five beers in the competition and, while I thought that their Imperial stout would win a medal, they were hoping that their barrel aged Belgian quad would do the trick.
Firstly there was a tribute paid to Michael Jackson before the ceremony began.
I watched the ceremony as Anhauser Baush won and award for Redbridge, Coors Light won bronze for best American light lager, Miller Genuine draft won another award for some equally bland category, and I started to realised the competition involved. Goose Island, my particular favourite, won silver in the English IPA category and Newport Beech won bronze in the Wood and barrel aged strong beer for Relapse, their (whiskey) wood aged Belgian quad, the lads were right, and congratulations to Kirk Roberts the masterbrewer.
All that was left to do was to finish what ever beer was left. The beers themselves didn't matter much at this stage, it was more beer styles. I was sticking to double IPA's and strong Belgians. It was all about the alcohol at this stage nothing below 8.5%.

Discuss this item in the forum