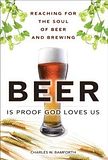 Professor Charles W. Bamforth is the author of several books on the science and history of beer and brewing. His Lancashire roots, long career in the industry and current role as Anheuser-Busch Endowed Professor of Malting and Brewing Sciences at the University of California have led to some interesting perspectives: while very much concerned about beer quality, he has no truck with the notion that this is the exclusive preserve of small-batch breweries. And though steeped in the Real Ale traditions of Northern England he has an appreciation of all kinds of beer from around the world, a believer in consistency and good presentation as much as flavour.
Beer is Proof God Loves Us: Reaching For the Soul of Beer and Brewing has no central theme as such. Part autobiography, part history book, part campaign manifesto, it is above all a very personal view of the world of beer.

The first thing that's striking about such a broadly pitched volume is how slim it is. The main body of the work takes up just 131 pages. There are, however, copious endnotes adding almost a hundred more pages. Some of the notes are so long that they interrupt the flow of the text and I can't help thinking they would have been better off incorporated into the main chapters.

Quite a lot of the book is anecdote: tales from the brewery floor, from international brewing science conferences in all corners of the globe, from childhood life in 1960s Lancashire and so on. Names are dropped with alarming regularity and we learn of Bamforth's encounters with the great and good of brewing academia and celebrity craft brewers.

Several important events in beer history are explained in detail, including prohibition in America and the Beer Orders in the UK. We also hear the stories behind some of the biggest names in modern American craft beer: Jack McAuliffe, Ken Grossman, Jim Koch, Fritz Maytag, Dan Gordon and Charlie Papazian.

Understandably there's a fair bit of science in the book: a look at the minutiae of commercial brewing like foam stability and brightness. Bamforth is in his element here and writes clearly yet unpatronisingly. There's a definite sense that he loves his subject and loves telling other people about it just as much.

The later chapters turn to broader issues of concern to the author. Two are dedicated to the growing trend in neo-prohibitionism and he looks not only at the anti-alcohol lobby itself, but also examines the social and health implications of alcohol use and misuse. As one would expect, lots of scientific argument is brought into play in support of moderate drinking as part of a healthy lifestyle. The ecological factors around beer production are also discussed -- from the increasing scarcity of ingredients to the need to conserve energy and water during the brewing process itself.

Despite the vast amount of ground covered, the book doesn't feel dense or rushed. It's more like a rambling conversation with someone who knows an awful lot about beer and enjoys talking about it, albeit one who is perhaps overly fond of his own humorous stories and witty turns of phrase. The author's likeable, if somewhat sentimental, personality comes through very clearly and it's hard not to enjoy spending time with him in these pages.