TheBeerNut

7232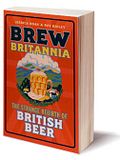 We all know the story: in 1971 a group of Englishmen on a walking holiday in Kerry created a beer drinkers' protest group to fight the rise of industrialised beer in Britain.
35 years later, a pair of young Scottish home brewers set out to shake up the staid UK beer scene with a daring and aggressive new venture: we all know that story too.
But neither of these well-worn creation myths are the full truth. The circumstances behind the formation of CAMRA and the founding of BrewDog are just two of the areas covered in Brew Britannia, a book about the changes in British beer culture from the middle of the 20th century to the present day, and one which shows a continuity between the events with which, perhaps, neither entity would be entirely comfortable.
Read more: Review: Brew Britannia - The Strange Rebirth of British Beer