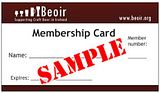 Subscriptions and renewals are now open for the membership year 2012-13.
Membership costs €10 and runs until 30 June 2013.
All funds go towards the running of Beoir and its campaigns, as decided by the members themselves.
To formally pledge your support to craft beer and cider in Ireland, sign up here.
John - TheBeerNut
Beoir Treasurer 2012-13
This email address is being protected from spambots. You need JavaScript enabled to view it.