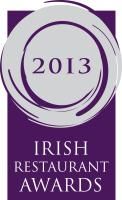 It's heartening that so many of the winners of the 2013 Irish Restaurant Awards are familiar from the Beoir Directory and app as stockists of beer and cider from Ireland's small independent producers. Over the last ten years we have seen a major change in how the nation views and values food, with a consequent rise in the quality and range of what's on offer. Though the beer revolution is newer and faces tougher competition from bland mass-produced products, it's clear that the food sector is an important ally, bringing tasty local produce to the market, both on a plate and in a glass.

Congratulations to all the winners, but especially the five gastropub champions: The Brewer's House (Donaghmore), The Purty Kitchen (Dublin), Eat @ Massimo (Galway), The Derg Inn (Terryglass) and Harte's Bar (Kildare), all proving every day that beer and food belong together.

In fact, with awards for "Best Cocktail Experience" and "Best Wine Experience", isn't it high time there was an Irish Restaurant Award for "Best Beer or Cider Experience"?