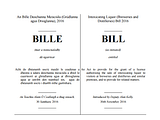 On Thursday 23rd March the Intoxicating Liquor (Breweries and Distilleries) Bill 2016 will have its second stage debate in Dáil Éireann. If passed, this legislation will allow breweries and distilleries to sell their produce directly to the public, revolutionising the Irish artisan drinks industry while also bringing it into line with almost every other country in the world.
Taprooms will increase beer tourism, help stabilise the current industry and attract new players to this tentatively growing field, all across the country. Independent Irish beer makes up less than 3% of the market at the moment; the presence of taprooms will help build that to the level found in fully developed beer markets of around 12-15%.
Since it was first published late last year there has been a small but positive reaction to the Bill. However, some major influencers on the legislative process, including the Government itself, have yet to express an official position. It's entirely possible that those who do not want the Bill to pass are simply waiting quietly for it to be stifled in the Dáil. As it's a private members bill introduced by a Labour Party deputy, there's every chance that that could happen.
And this is where you come in. Contact your TDs, from all parties. Write, email, telephone, meet them at their constituency clinic. Tell them that the Bill is due for second stage on Thursday 23rd. Ask them if they will consider co-sponsoring the Bill: this will give it more time in the chamber and increase its chances of surviving. At the very least ask them to vote for it, and remind them that you will be watching on the day. If the Bill doesn't make it to the next stage, at least you can say you did your bit.
For details of your representatives, see www.whoismytd.com.