Wayne Dunne

5845
Calling all Graphic Designers, and Craft Beer Fans. We need your help.
Beoir is running a competition for an Irish Craft Beer and Cider Festival exclusive tee shirt design. This will only be available for purchase at the event itself which runs from 4-7 September.
We are giving the winner of this competition some great prizes:
2 x Guest Passes to the event on a day of your choosing
4 x Drinks Tokens
2 x of the winning tee shirt
Membership of Beoir if not already a member.
Please share this with anyone you think may be interested.
Further details below (click to enlarge):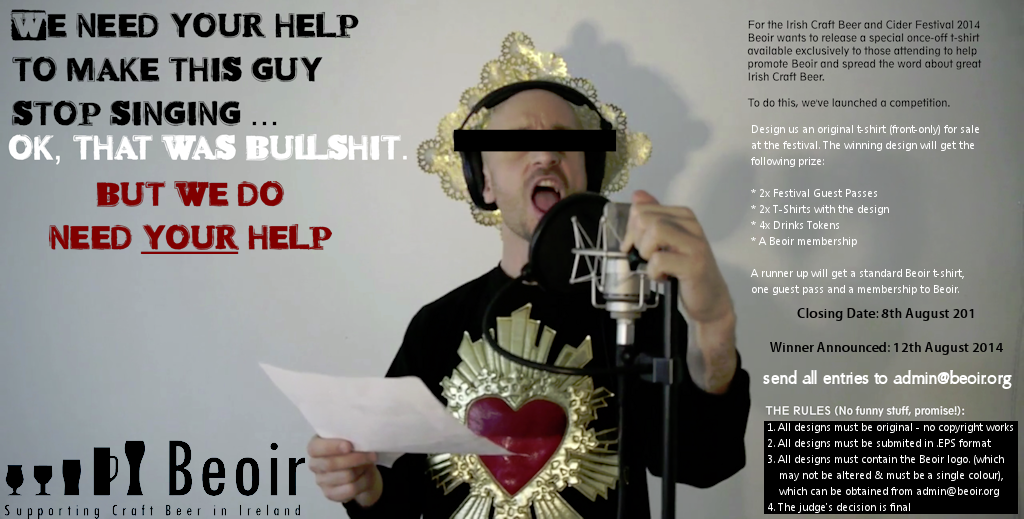 Oh and we can't confirm or deny if it is the beernut we are trying to silence!
The Beoir Logo can be found in the following formats:
Please note, the logo itself may not be altered other than the following: Colour (single) You don't need to use the strapline. You may also move the layout so the word "Beoir" appears below the beer glasses.
The Use of the above image files are for the sole purpose of this competition. Any other use, please contact This email address is being protected from spambots. You need JavaScript enabled to view it. or This email address is being protected from spambots. You need JavaScript enabled to view it. to request usage rights.