TheBeerNut

3967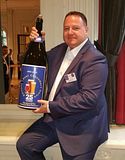 On Wednesday 21 October hundreds of beer drinkers from across Europe raised a glass in Brussels to celebrate of 25 years of EBCU (European Beer Consumers Union) campaigning success.
The celebration took place at De Markten, where members were able to sample beers hand delivered from across Europe, showing the great diversity of beer styles and traditions existing in different countries. Members of the European Parliament, European Commission and European Economic and Social Committee officials were in attendance.
Beoir was represented by Chairman Reuben Gray (pictured) and Irish brewing by Carlow Brewing Company, which kindly donated a range of its beers to the event.
The new EBCU executive was welcomed in on the night, which will include Carl Kins from Belgium, Bo Jensen from Denmark, Tim Webb from the UK, Jan Lichota from Poland and Henri Reuchlin from The Netherlands. The new executive will be focusing EBCU's campaigning efforts on promoting transparency in consumer information of beer and for a fair taxation system for beer across the European Union.
EBCU Chairman Henri Reuchlin says: "The 25th anniversary of the EBCU marks an important milestone in our history. We have more support than ever before from European countries, demonstrating the real demand for a pan-European voice for beer drinkers. We look forward to working closely with the European institutions and our member countries to support the beer industry across Europe."
TheBeerNut

8556
For the fourth year of its existence, Beoir has run a competition to find Ireland's favourite beer: the one the drinkers enjoyed most and want to see more of, and more like it. Every beer brewed and sold on the island in the past year is eligible, and previous winners have included Franciscan Well's Shandon Century Stout and Metalman Pale Ale.
With the explosion of new breweries in 2014, the field was bigger than ever and a total of 128 different beers from all over the country received votes from their fans. It was a very close run contest but even from early on, three beers in particular stood out amongst the pack.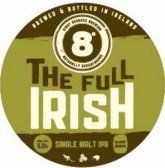 2015 Beer of the Year
The Full Irish
an IPA by Eight Degrees Brewing, Mitchelstown, Co. Cork
As has become tradition at this stage, a new arrival took the top prize. The Full Irish was introduced at the 2014 Franciscan Well Easter Beer Festival to immediate acclaim. Its name comes from the 100% Irish grain bill, using malt supplied by The Malting Company of Ireland which, like the brewery, is based in Co. Cork. Where this India Pale Ale really shines, however, is in the hopping. Generous use has been made of American varieities Ahtanum, Centennial, Citra and Amarillo, giving a punchy 65 IBUs and lots of grapefruit and tropical fruit aromas and flavours. Since the first outing at Easter the beer has appeared several times and is now available bottled as well as on draught. It's a beer to drink fresh so if you have any in stock, toast its success now!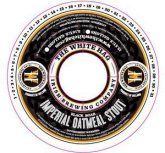 1st Runner-Up
Black Boar
an imperial stout by The White Hag Brewery, Ballymote, Co. Sligo
Not only a new beer, but a brand new brewery in second place. The White Hag, and Black Boar in particular, caused a seismic ripple when it set up stall at the Irish Craft Beer & Cider Festival in the RDS last September. Even at the opposite corners of the hall, beer enthusiasts were passing around glasses of the unctuous imperial stout, speaking in hushed reverential tones. Brewmaster Joe Kearns earned his chops stateside and has brought plenty of that American nous to this beer. At 10.2% ABV it's an uncompromising stout, but wonderfully smooth with that, avoiding the heat and harshness that strong beers like this sometimes have. Many a Beoir member can testify to its dangerous drinkability. While officially only produced for export, we'd like to thank the brewery for letting the occasional keg roam free locally.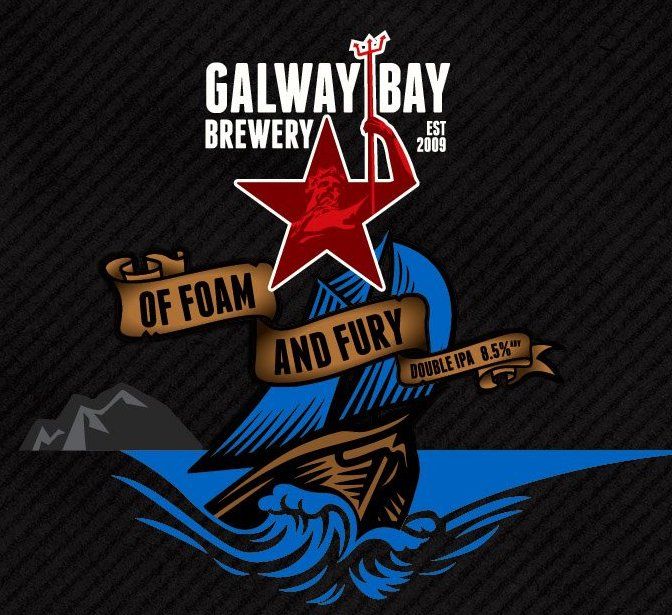 2nd Runner-Up
Of Foam & Fury
a double IPA by Galway Bay Brewery, Galway City
Proof that its gold medal last year wasn't a fluke, Of Foam & Fury has held its ground on the awards podium for a second year. 2014 saw it available outside the brewery's pubs for the first time, in a bottle-conditioned format. And while we understand the detail of the recipe has changed a little, it's still as weighty, warming and fruity as ever it was. 
Congratulations to the winners and thank you to all the Beoir members who took the time to vote.
TheBeerNut

4134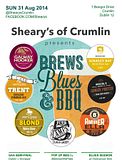 Dublin 12's leading beer bar, Sheary's of Crumlin, is celebrating Irish Craft Beer Week 2014 with the arrival of a range of new beers on Sunday 31st August.
The award-winning draught line-up includes Eight Degrees Amber-Ella, Galway Hooker Pale Ale and Rascal's Ginger Porter. White Gypsy's Trent bitter will have the honour of being the first to pour from the pub's brand new cask beer engine.
Barbecue will be provided by the always-excellent #BrewsWePlate team, beginning at 4pm. The All-Ireland football semi-final between Dublin and Donegal will be live on the big screen from 3.30pm and at 5.30pm the live blues session with Hollywood Slim kicks off.
TheBeerNut

4757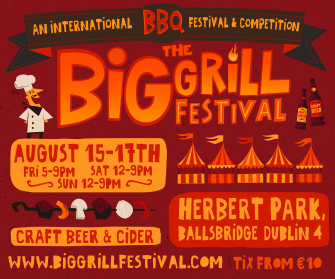 The first Big Grill Festival is coming to Herbert Park, Dublin this weekend, 15-17 August. Proper barbecue food has become incredibly popular of late and this is a chance to try the best Dublin has to offer all in one place.
A variety of Irish brewers will have beers available at the event, including Eight Degrees, Rascal's, Trouble Brewing and The Porterhouse, as well as international offerings from greats such as Oskar Blues, Odell, Thornbridge, BrewDog and Sierra Nevada.
Beoir members will be on hand through the weekend to help you choose the best beers to match with your food.
Full details and tickets are available via BigGrillFestival.com. Discount entry is available to all Beoir members, see the members' forum for details.