TheBeerNut

4796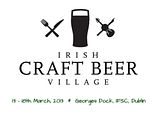 From Wednesday 13th March right through the St. Patrick's Day holiday weekend there'll be an opportunity to sample a wide range of Irish craft beers at the Craft Beer Village on George's Dock in Dublin's IFSC.
It will be open daily from 12 noon, closing at 10pm on Wednesday and Thursday, 12.30am Friday to Sunday, and 6pm on Monday.
From 13th to 15th admission is free before 7pm and €5 after, then €5 all day 16th to 18th.
For full details and breaking beer news, visit the festival website.
TheBeerNut

3595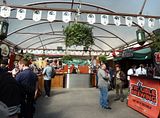 Now that the days are beginning to get longer it's time to look forward to some of the beer festivals coming your way over the next few months.

Cask and Winter Ales Festival, Cork, 15-17 February
At the opening event of the 2013 Irish beer calendar, The Franciscan Well will be hosting a celebration of cask-conditioned Irish beer, as well as strong and warming winter ales. Beoir members can avail of a couple of free drinks at the Friday evening session by showing a membership card at the bar.
More information

Irish Craft Beer Village, Dublin, 14-18 March
A five-day spectacular in the Dublin docklands as part of the overall St. Patrick's Day festivities. Featuring live music, artisan food and a wide range of beers from the independent Irish breweries.
More information

Easter Beer Festival, Cork, 30-31 March
One of Ireland's longest running beer festivals and always well attended by the breweries. Expect a mix of old favourites from around the country as well as new release beers and festival specials. Hosted by the Franciscan Well, it opens at 2pm on both days and admission is free.
Lots more beer festivals are planned for the summer and autumn in different parts of the country. Watch our events board and calendar for details as we get them.
TheBeerNut

3996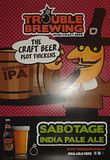 Kildare-based microbrewery Trouble Brewing have just launched the third beer in their regular line-up: Sabotage IPA. This is a 5.5% ABV India Pale Ale which makes extensive use of Galaxy hops, a variety prized for its tropical fruit flavours.
Trouble was founded in 2009, originally in Allenwood, Co. Kildare. 2013 will see the brewery move to a bigger premises closer to Dublin, in the village of Kill.
The new beer joins Ór golden ale and Dark Arts porter in the Trouble line-up and will initially be available in keg and cask formats, with a bottled version to follow later in the year.
TheBeerNut

3107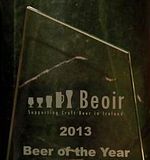 The past 12 months has been a bumper year for Irish beer. Once again, Beoir wishes to take stock of the many wonderful brews available and we need your help picking the best of the bunch.
Voting is now open for the 2013 Beer of Year: the only beer competition in which every beer brewed and sold commercially in Ireland is eligible to win, voted by the drinkers.
You'll find the full rules of the competition, and details on where to send your vote on our forum here. We've also compiled a list of every Irish beer we can think of to help jog your memory. You must be a registered member of the forum to vote, but registration is quick and free.
Edited 08/01/2013: Due to suspicious patterns in the votes received so far, we have regretfully had to restrict voting to Beoir subscribers. Votes from forum members who are not Beoir members will not be counted. These awards have always sought the maximum mandate from Irish drinkers and it is disappointing to see this integrity being abused. The voting restriction now in place, while far from ideal, will help ensure that 2013's Beer of the Year reflects a meaningful choice made independently by the drinkers of Irish beer.
Voting closes on Monday 4th February so get thinking about your top three beers and make your vote count.