Beoir joins the European Beer Consumers Union
Category: News
Published on Monday, 12 November 2012 09:25
Written by TheBeerNut
Beoir has become the newest member of the European Beer Consumers Union, Europe's umbrella group for organisations which promote beer culture and drinkers' rights. The unanimous decision was made by the delegates of the EBCU's existing member organisations at their most recent biannual meeting in Copenhagen on November 3rd 2012.
The EBCU was founded in 1990 and currently consists of thirteen national member organisations, representing 170,000 paying members. High-profile EBCU member groups include CAMRA in the UK and Zythos in Belgium. The umbrella group provides a platform for campaigning at the European level and its activities include an annual reception for MEPs and production of a manifesto on drinkers' rights in the lead up to the European elections. The 2009-2014 manifesto may be found here; an updated version for the 2014 elections is currently in production.
As a full EBCU member, Beoir now has access to a broad range of campaigning experience from across the continent. We are now able to participate in a shared approach to the problems which face the beer drinker today, not least of which is the ongoing neo-prohibitionist denormalisation of alcohol. And on a symbolic level it is right and fitting that Ireland -- one of Europe's highest per capita consumers of beer -- now takes its place among the organised and united beer drinkers in the rest of Europe.
The EBCU's press release on Beoir's accession is available here.
New Look For Dungarvan Brewing
Category: News
Published on Tuesday, 30 October 2012 12:12
Written by TheBeerNut
The Dungarvan Brewing Company has launched a redesign of its branding with the new bottle labels due to hit the shelves in November, to be accompanied shortly by a new-look website.
The Co. Waterford brewery was founded in 2010 and its original design was created to convey a safe, traditional and trustworthy feel. Almost three years on, following a spate of awards and a massive growth in the range of other Irish craft bottled beers available, the brewery has opted to modernise the look. The redesign was undertaken by Cork-based Greenhouse Design and is very much an updating of the Dungarvan Brewing style rather than a total rebrand. The Mine Head lighthouse which has served as the brewery's logo since the beginning still features prominently.
Beermats, glassware and merchandise featuring the new design will also be appearing shortly.
The beer, we are assured, will remain unchanged.
Farmhouse Cheese and Craft Beer Weekend
Category: News
Published on Sunday, 21 October 2012 16:31
Written by TheBeerNut

Over the October Bank Holiday weekend for the second year running, Bord Bia has organised a nationwide celebration of Irish farmhouse cheese and craft beer. Over 20 tasting and demonstration events will be taking place around the country, with many pubs, off licences and markets offering the opportunity to try some of the best Irish cheeses with our native craft beers. Formats vary from formal tutored tasting events to casual tasting trays of cheese and beer available throughout the weekend.
Cheese and beer is a natural pairing and represents two products about which Ireland has a great deal to be proud. This weekend offers a great opportunity to explore them side by side.
The events begin on Thursday 25th October and run through until Monday 29th. Details of the events can be found on the Bord Bia website here, as well as the chance to win a craft beer and cheese hamper (closing date 24th October).
Irish Craft Beer Week and Festival
Category: News
Published on Wednesday, 29 August 2012 19:10
Written by TheBeerNut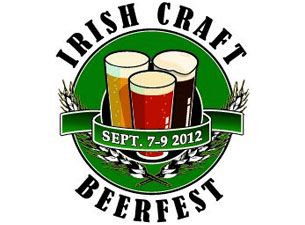 The following is the official press release for the first Irish Craft Beer Week, culminating in the Irish Craft Beer Festival at the RDS Dublin from 7th - 9th September 2012.
Beoir representatives will be at the festival all weekend to talk beer and brewing with festival-goers.
Ireland launches its first ever Craft Beer Week, topped off by the Irish Craft Beer Festival

Today, 29th August, 2012, marks the opening of Ireland's first ever Irish Craft Beer Week with the aim of introducing both Irish consumers and retailers to this flourishing local trade. At present, there are approximately 20 Irish Craft Breweries throughout the country, responsible for the employment of 90 people and accounting for approximately 1% of the market share.

There has been a new found surge in demand for craft beer in Ireland despite some of our craft breweries operating for over 15 years. Seamus O'Hara (owner of the Carlow Brewing Company and Co-Founder of the Irish Craft Beer Week and Festival) notes, "The Irish craft beer market has come on in leaps and bounds very quickly. We were export focussed in the early days because craft beer was so new to the Irish market. We are very encouraged by the surge in demand in Ireland in the past couple of years and we just need people to know what craft beer is, what it tastes like and what it entails."

The Irish Craft Beer Week was officially opened this afternoon in the Bull and Castle Pub in Dublin. The launch welcomed top Irish journalists, media and food experts with a craft beer and food pairing experience hosted by Geoff Carty (manager of the Bull and Castle), along with Seamus O'Hara and Bruce Mansour (co-founders of Irish Craft Beer Week and Festival).