The first Beoir Cider Competition has been scehduled to take place at The Wine Rack, Stewartstown on Saturday the 22nd of April 2017.
The competition is open to to all commercial cider or perry producers on the island of Ireland. Entries are €40 per cider, with a maximum of 5 entries per producer. This is due to time and available judges and will hopefully encourage entrants to think about which ciders should be entered. We are also judging amateur "homebrewed" ciders alongside the professional entries. These may be entered at a reduced rate of 6EUR per cider with a maximum of 3 entries per person. A discount code is available in this case, please contact the competition organiser.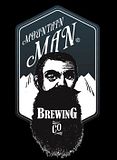 Today we officially welcome the newest member of Ireland's craft brewing scene: Mountain Man of Macroom, Co. Cork.
The first beer released is called Green Bullet, a 4% ABV pale ale packaged in 33cl bottles.
Pending wider distribution and the official launches in Cork, Dublin and Sligo (see our calendar for details), Green Bullet can be found in Cork City at Bradley's Off Licence on North Main Street, The Abbot's Alehouse on Devonshire Street, The Franciscan Well on North Mall and The Bierhaus, Pope's Quay, as well as Blair's Inn in Blarney, The Mills Inn in Macroom and Galvin's Carry Out off licences across County Cork.
A second beer, Hairy Goat IPA, is due to follow soon.
For updates, follow Mountain Man Brewing on Facebook, Twitter, and at their forthcoming website.