Beoir: Champion Beer of Ireland Competition
The third Beoir: Champion Beer of Ireland Competition has been scehduled to take place at the Killarney Beer Festival on Saturday May 27th. Winners will be annonced at the festival on Sunday the 28th.
This year the overall winning beer wins the opportunity to Brew an Exclusive Craft Beer for Carry Out Licences complete with a full nationwide promotional campaign.
The Killarney Beer Awards are open to brewers on the island of Ireland only. If you are not sure if your product qualifies, do not hesitate to contact us. We appreciate it is a rapidly evolving and innovative product market. To qualify, your beer must be commercially available on the island of Ireland at the time of entry. That means that you must be a legally operating brewery. It also means that one off beers that will never be for sale again will be disqualified.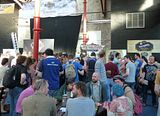 A summary of some of the beer festivals coming up in late summer 2013.
Burren Brewery Craft Beer Festival, Lisdoonvarna, 2-4 August
Based at the Roadside Tavern in Lisdoonvarna, three days of live music, food from the Burren smokehouse and beer from the onsite Burren Brewery.
Annascaul Beerfest, Annascaul, 2-5 August
A charity event among the pubs in Annascaul Co. Kerry over the Bank Holiday weekend. A variety of Irish and international beers will be on offer and proceeds this year go to Acquired Brain Injury Ireland.
annascaulbeerfest.wordpress.com
Doolin Craft Beer Festival, Doolin, 23-25 August
Now in its second year, the Doolin Craft Beer Festival takes place at Hotel Doolin. Once more the beer will be matched with local food and traditional music.
Hilden Beer and Music Festival, Hilden, 23-25 August
A fixture in the Irish beer calendar for many years, once again the Hilden Brewery near Lisburn will host a festival on the last weekend in August. 35 beers and ciders from all over Ireland and Britain will be on offer plus rock music on the main stage and trad in an adjacent tent.
Irish Craft Beer and Cider Festival, Dublin 5-8 September
The largest showcase of Irish craft beer and cider, making its third return to the RDS for an extended run. Irish beers and ciders from all over the country will feature, as well as international guests and Irish whiskey.