Beoir: Champion Beer of Ireland Competition
The third Beoir: Champion Beer of Ireland Competition has been scehduled to take place at the Killarney Beer Festival on Saturday May 27th. Winners will be annonced at the festival on Sunday the 28th.
This year the overall winning beer wins the opportunity to Brew an Exclusive Craft Beer for Carry Out Licences complete with a full nationwide promotional campaign.
The Killarney Beer Awards are open to brewers on the island of Ireland only. If you are not sure if your product qualifies, do not hesitate to contact us. We appreciate it is a rapidly evolving and innovative product market. To qualify, your beer must be commercially available on the island of Ireland at the time of entry. That means that you must be a legally operating brewery. It also means that one off beers that will never be for sale again will be disqualified.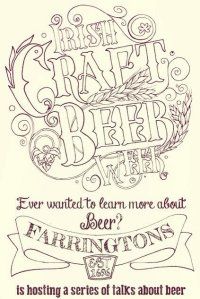 The week beginning Sunday 1st September is Irish Craft Beer Week, culminating in the biggest annual celebration of Irish craft beer, the All-Ireland Beer and Cider Festival at the RDS from Thursday 5th to Sunday 8th September.
Farrington's pub in Dublin's Temple Bar will be hosting a number of events in the early part of the week. On Monday at 6pm the National Homebrew Club will talk about brewing your own; on Tuesday at 6pm it's the turn of Ireland's only qualified beer sommelier Phil Tavey to share his knowledge; while on the Wednesday evening at 7pm the subject turns to whiskey and Irish craft distilling.
The sequence begins on Sunday 1st September at 4pm with Reuben, Andrew and John from Beoir talking about all aspects of the Irish craft beer scene -- where we are and how we got here.
Best of all, pints of Irish craft beer are on sale for €4.50 for the duration of the week.
Come along and say hi!