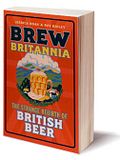 We all know the story: in 1971 a group of Englishmen on a walking holiday in Kerry created a beer drinkers' protest group to fight the rise of industrialised beer in Britain.
35 years later, a pair of young Scottish home brewers set out to shake up the staid UK beer scene with a daring and aggressive new venture: we all know that story too.
But neither of these well-worn creation myths are the full truth. The circumstances behind the formation of CAMRA and the founding of BrewDog are just two of the areas covered in Brew Britannia, a book about the changes in British beer culture from the middle of the 20th century to the present day, and one which shows a continuity between the events with which, perhaps, neither entity would be entirely comfortable.
Brew Britannia is subtitled "The Strange Rebirth of British Beer". Its authors are Boak & Bailey who have been offering their perspectives on beer -- current and historical; British and beyond -- via their blog since 2007. The stated aim of the book is to tell the story of the last half-century of British beer, from thin fizzy "dustbin beer" and twiggy brown bitter to ultra-citric double IPAs and off-the-wall funky sour concoctions. Instead of a linear narrative, however, the book focuses in on particular figures and events which marked milestones in the ongoing development.
It starts in the pre-CAMRA days, with the Society for the Preservation of Beers from the Wood, placing it in the context of other cultural preservation groups in post-war Britain. CAMRA, which subsequently took up the activists' mantle from the SPBW, is associated more with 1960s and '70s protest movements, like Friends of the Earth and the Gay Liberation Front. We learn of proto-CAMRA's roots in a pub crawl around Chester, prior to the departure for Ireland, and follow it from a matey drinking club to the point where a new wave of more combative officers turned it into the most successful consumer organisation in Europe. Details such as how CAMRA's initial objections were as much about beer strength as taste and texture provide angles that are not normally found in the tales of CAMRA's beginnings.
On foot of the new high-profile consumer interest in better beer came a new wave of British microbreweries, many of which have since grown into successful regional operations, like Butcombe near Bristol or our own Hilden. The ultimately unsuccessful attempts by the "Big Six" industrial brewers to recapture the cask beer market is also documented.
By the 1980s and 1990s the picture begins to become familiar: a long section profiles David Bruce and his Firkin chain of pubs, something of a conceptual brother to today's JD Wetherspoon; there's a new interest in imported beers, from Belgium in particular, and we meet Sean Franklin and Brendan Dobbin, pioneers who brought bold American hop flavours to the British palate for the first time, celebrating their distinctive "perfumed" effect. Beer as a trendy, urbane, young person's drink is marked, beginning with Oliver Peyton's Mash & Air restaurant-brewery in late-90's Manchester, though there's a nod to the distinctly non-craft approach to beer-as-fashion found in the Madchester music scene. Talk of "designer beer" gradually gives way to the "craft" we know today.
Thornbridge and BrewDog are profiled in depth, the former being Martin Dickie's first place of employment as a brewer, though this is rarely mentioned in the official BrewDog corporate history, and from there we come right up to date with trailblazers such as Wild Beer Co., The Kernel and Magic Rock, still pushing the boundaries of what beer can be.
The overall shape of the text is one of snapshots: close descriptions of people and places that are presented as illustrations of a specific trend in British brewing. The vast amount of research that went into it is very apparent, with a wide array of documentary evidence cited, as well as first-person interviews with almost all the main characters, providing never-before-seen information and viewpoints. The prose is clear and brisk, mostly quite serious in tone with just the occasional whimsical flourish. As well as copious footnotes, appendices provide helpful details of the Big Six and new wave breweries mentioned in the text, and Rock-Family-Tree-style charts showing how seminal breweries Kelham Island and Thornbridge spread their influence as former staff members moved to other breweries or set up their own.
For a history book set mostly in my own lifetime on a subject I'm very interested in, I can point out almost no omissions. That there is no mention of the Williams Brothers -- an early craft beer proponent of unusual ingredients -- is a little surprising, and I felt there was a bit of a southern bias generally. But these are minor quibbles.
Brew Britannia fits neatly on the beer bookshelf alongside Pete Brown's Man Walks Into A Pub, offering a closer look at at recent UK beer history and bringing it right up to date.
For more of an idea of the content and style of the book, the authors have produced a series of promotional videos, available on their YouTube channel.