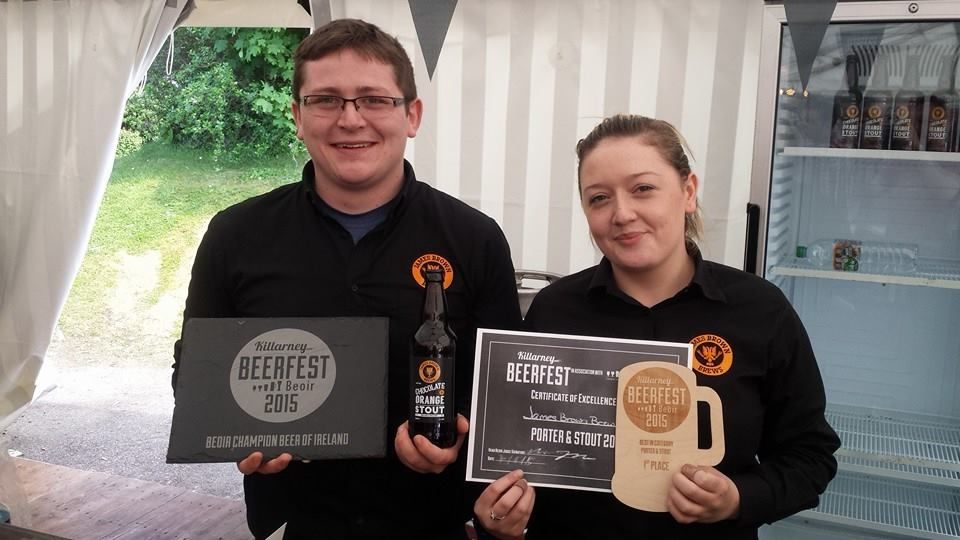 This weekend saw the first Killarney Beer Festival take place at the magnificent INEC. Beoir was heavily involved in getting it set up and primarily in running the Killarney Beer Awards as well as educational talks and tasting sessions.
For the awards, we invited 6 international judges from around the world to complement our own experienced judges. Five of these judges were EBCU delegates and are official judges in other EBCU endorsed competitions.
Each category had a senior judge assigned who had the deciding vote where a deadlock occurred.
Those senior judges were:
André Brunnsberg - Finland - EBCU
Theo Flissebaalje - Netherlands - EBCU
Carl Kins - Belgium - EBCU
Jos Brouwer - Netherlands - EBCU
Des De Moor - UK - CAMRA, Beer Writer & Judge
Tom Coughlin - USA - BJCP judge for 10 years
The most important people on the day were the stewards of course. Kellie Dawson was the lead steward and ensured the judging went smoothly and that we were unaware of what beer we were judging so we could remain impartial. Stewarding on the day was Meg Coughlin and Hilary Gray as well as a member of the INEC staff to act as a runner for beer coming in pitchers from draught.
Each beer that achieved a certain score was awarded a certificate of gold, silver or bronze and that list is being compiled at the moment. Expect more details to follow. For now, here are the best of category winners and the overall best in show.
The Beoir: Champion Beer of Ireland went to James Brown Brews for their Chocolate Orange Stout. This was brewed at the Brú Brewery in Trim.
First Runner Up: Kinnegar - Black Bucket
Second Runner Up: O Brother - The Chancer
The best in show was made up of the top 3 out of all the 1st places each category. These were decided by our international judges in order to maintain complete impartiality as these judges were tasting the beers for the first time that day and couldn't be influenced in their decision making by any recognition of what they were tasting.
1st - O Brother Brewing - The Chancer
2nd - Kinnegar Brewing - Scraggy Bay
3rd - Killarney Brewing - Scarlett Pimpernel IPA
1st - Torc Brewing - Torc Amber Ale
2nd - St Mels - Brown Ale
3rd - O Brother Brewing - The Fixer
1st - Trouble Brewing - Remix
2nd - Carrig Brewing - Pilsner Lager
3rd - Jack Codys - Puck Pilsner
1st - James Brown Brews - Chocolate Orange Stout
2nd - Jack Cody - Hail Glorious St Patrick Stout
3rd - Kinnegar Brewing - YannaRoddy Stout
1st - Kinnegar Brewing - Blackbucket
2nd - 9 White Deer - Black Lightning IPA
3rd - Black Donkey - Buck It
1st - Hillstown Brewery - Spitting Llama
2nd - Black Donkey - Sheep Stealer
3rd - Kinnegar Brewing - Swingletree Belgian
1st - Elbow Lane - Arrow Weisse
2nd - Hillstown Brewery - Goats Butt
3rd - Franciscan Well - Friar Weiss
Here is the full list of placement
s
. Thanks to all of the breweries that entered beer and congratulations to the winners. I think this represents the most impartial and independently run beer competition in Ireland and I expect there will be even more entries next year.