General
Category: General Articles
Published on Tuesday, 12 November 2013 16:49
Written by Saruman
BeoirFinder is a free, handy geo-location tool for finding pubs, restaurants and breweries in Ireland that serve Craft Beer. There has been a major boom in Irish Craft Breweries in recent years; This App is vital for anyone who values choice when it comes to beer selection. Beoir is the Gaelic for beer and is also the name of an independent group of consumers in Ireland. Our primary goal is to support and raise awareness of Ireland's native Independent microbreweries.
The BeoirFinder App is available on both the Apple Appstore and Google Play (Android). It's perfect for finding where you can get beer from an independent Irish microbrewery and often what's available at that location too. Future editions of the app will allow adding and updating entries from within the app.
Watch out for the gold icons in the app. These are the highly recommended or must visit destinations as voted for by Beoir members.
Category: General Articles
Published on Wednesday, 02 October 2013 16:13
Written by Christina
I really have been into craft beer since I came of age to legally drink in America. My parents lived in Wisconsin which is home to some amazing craft breweries like New Galrus, a small brewery that makes some truly exceptional beers, including their famous Spotted Cow. When I was at University in West Virginia, we used to drive 45 minutes out of state to pick up quality craft beers that weren't available in the state yet. I've lived in six states in the US, most recently, in Northern Virginia, outside of Washington, D.C. The craft beer scene in and around DC is massive. There are loads of events like the Northern Virginia Brewfest, as well as some great craft breweries, brew pubs and craft beer bars. Craft beer is a big movement in DC and you will, in my estimation, run into more people who like craft beer than not. It was because of this that a friend and I co-founded a craft beer group for women in 2009, which my friend still runs.
I moved to Ireland in August of 2011 to pursue my postgraduate degrees and joined Beoir right away.
Christina is the founder of the Dublin Ladies Craft Beer Society on meetup.com
Chairman's note:
We have set up a new forum on Beoir forum called Beoir Ladies and Christina will be trying to round up women to join Beoir and get involved as well as existing women who tend not to be so active. Christina has already organised many beer events for women in the US and Ireland so I am confident in her abilities.
Category: General Articles
Published on Wednesday, 11 September 2013 11:42
Written by TheBeerNut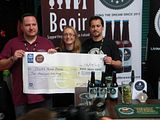 When Black's Kinsale Craft Brewery launched a crowd funding initiative on the Indiegogo platform it immediately captured the interest of Beoir members. Sam even adjusted the offer listing to allow those who just wanted to buy the exclusive beers he has planned.
But Beoir Chairman Reuben Gray noticed an opportunity for something bigger: at the bottom of the listings was the offer of a personalised batch of beer on the Kinsale pilot system: 200 bottles with a price tag of €1,000. Perhaps 20 of us could club together and commission a unique Beoir brew? It took just eight days to collect the necessary number of pledges, with some late joiners just missing the final places. Could we do it again?
A second round was opened and at this point Sam himself stepped in to sweeten the deal, offering a brew on his full-size brewkit and doubling the beer allocation for each pledger. This round took less than a week to fill up and on Sunday 8th September at the Irish Craft Beer and Cider Festival, Reuben presented Sam and Maudeline with a cheque for €2,000.
The beer is due to be brewed in early 2014 and the part of the batch not allocated to pledgers will be available to the public in a strictly limited edition (though the launch party has dibs on at least some of it). We're left with just one important question: what shall we brew?
The Black's Kinsale Craft Brewery Indiegogo campaign is 90% complete but there are still lots of great offers available to funders before the 15th September deadline. Take a look!
Category: General Articles
Published on Tuesday, 22 January 2013 11:59
Written by Andrew
"Give me one year" asks Shane Long, co-founder of The Franciscan Well. As the news officially broke last week regarding the Molson Coors buyout of the Well, speculation and opinion has been rife regarding what this means not only for the Well but also for Irish Craft Brewing.
Shane has been in the business longer than most. "It"s been 14 years" he says "I still remember the early days, sleeping in the back of my van before doing the deliveries up in Dublin or on floors of friends apartments." And Shane is deeply passionate about beer as anyone who knows him would agree. So why the sale to Molson Coors? "I needed to expand and I couldn't do it alone. I had demand for our beers that I couldn't fulfill."
Shane's need to expand came earlier in the year when he was given a very viable opportunity to increase his sales by exporting to America. "They [the new customer] came here last March because of the awards we had won and once they tasted the beer they brought me to New York to arrange an import agreement."
Contact This email address is being protected from spambots. You need JavaScript enabled to view it. with any queries or issues regarding subscriptions.