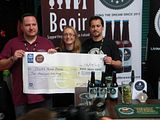 When Black's Kinsale Craft Brewery launched a crowd funding initiative on the Indiegogo platform it immediately captured the interest of Beoir members. Sam even adjusted the offer listing to allow those who just wanted to buy the exclusive beers he has planned.
But Beoir Chairman Reuben Gray noticed an opportunity for something bigger: at the bottom of the listings was the offer of a personalised batch of beer on the Kinsale pilot system: 200 bottles with a price tag of €1,000. Perhaps 20 of us could club together and commission a unique Beoir brew? It took just eight days to collect the necessary number of pledges, with some late joiners just missing the final places. Could we do it again?
A second round was opened and at this point Sam himself stepped in to sweeten the deal, offering a brew on his full-size brewkit and doubling the beer allocation for each pledger. This round took less than a week to fill up and on Sunday 8th September at the Irish Craft Beer and Cider Festival, Reuben presented Sam and Maudeline with a cheque for €2,000.
The beer is due to be brewed in early 2014 and the part of the batch not allocated to pledgers will be available to the public in a strictly limited edition (though the launch party has dibs on at least some of it). We're left with just one important question: what shall we brew?
The Black's Kinsale Craft Brewery Indiegogo campaign is 90% complete but there are still lots of great offers available to funders before the 15th September deadline. Take a look!