News
Category: News
Published on Thursday, 16 April 2009 11:12
Written by TheBeerNut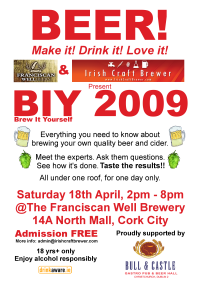 Come and meet the Irish Craft Brewer team, this Saturday, for one day only, at The Franciscan Well in Cork.
All your homebrew questions answered, free tastings, and equipment and ingredients for sale, courtesy of The Homebrew Company.
Whether you're interested in starting your own home brewery, or want to improve on past results, this is place to be.
Admission free. 18 yrs+ only.
Category: News
Published on Sunday, 08 February 2009 12:03
Written by TheBeerNut
The polls have now closed! Thanks to everyone who voted, and stand by for the results!
The third annual Irish Craft Brewer Beer of the Year awards will be announced in April. In 2009, for the first time, we are opening the selection process to all members of ICB and every beer brewed and available on the island of Ireland is eligible for nomination. The beer crowned as supreme champion can truly be said to be the favourite of all those who really care about Irish beer.
Two runner-up awards will be given, as well as an overall prize for Beer of the Year.
Details of how to vote, and a preliminary list of beers, may be found below.
Category: News
Published on Wednesday, 24 September 2008 10:49
Written by sbillings
Great news for craft beer in Ireland; our friends at The Porterhouse Brewing company, last featured in TheBeerNut's article about our visit to their brewery for the launch of Hop Head, have announced that they will be venturing into the realm of bottled beer.
Category: News
Published on Wednesday, 23 January 2008 15:41
Written by sbillings
If you have been following this thread in the forum you will know that I have made a submission to the Alcohol Advisory Group on behalf of the members of this website.

Thanks to TheBeerNut for the idea and taking everyone's opinions, expressed over a six page long thread and melding them into a coherent whole.

The group will be making their recommendations to the Minister for Justice, Equality and Law Reform by the 31st of March 2008.

The document was submitted via email earlier today. Download the full text here.
Category: News
Published on Monday, 25 June 2007 13:58
Written by Barry M
The management at the Bull and Castle have kindly offered to let ICB members to bring their own beers in to the Beer Hall for a tasting evening on Thursday the 19th of July. This is only the second time ICB members will have the oppertunity to get together to try each others beers, and being in the Beer Hall we will also be able to compare to commercial examples of the chosen styles for the evening; American IPAs and Wheat Beers.
To register your interest in attending, and to let us know what, if any, beers you are bringing, please see the thread in the Events forum. If you don't have beers of the chosen styles, or are a non-brewing member, don't worry! Pop along to have a taste and meet other members of the community.
We intend starting around 7pm. Looking forward to an evening of fine beer and chat.
See you there!
Barry