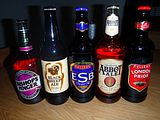 The world is a very small and lonely place when there's just you, the pub table, five small glasses of beer and a blank piece of paper. Those flavour characteristics you were sure would stand out a mile in each beer have inexplicably fled, and your confidence and bravado have gone with them. You've had a sip from each one, nothing tastes as you remember it -- as it's supposed to taste -- and the paper is still blank. You have another go at each glass, trying to force the flavours in your memory into the beer. It doesn't work. Time to cut your losses and start guessing. You may even get one right...


Following his stunning home run in the summer's blind stout tasting,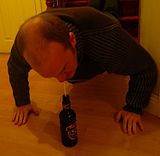 a_friend_in_mead was pretty confident when we got together to do the same with English ales. He had even put together a training montage. The stage was set in the Bull & Castle and we were joined by sbillings and Hendrixcat -- both veterans of the last round -- plus new contenders Bog_Myrtle and Poc. The field consisted of five bottled ales from the pale and strong categories, namely:
Abbot Ale

Bishops Finger

Black Sheep

Fuller's ESB

London Pride
Tasting was done in two sessions of three tasters each, and the results were compiled and collated by referee marceldesailly.

There's no question but it was tough. It's one thing to know the signature smell of a lightstruck beer, but quite another to identify which two of the beers had just been poured from clear glass. The easiest for me was the beer I know best: the earthy, mushroomy funk of Bishops Finger is easily spotted. Everything else was second guessing, and from what I see of the scrawls now in front of me, I wasn't the only one who had trouble giving a final answer.

When the results were totted up, I think we gave a relatively good showing:



Abbot Ale


Bishops Finger


Black Sheep


Fuller's ESB


London Pride
Score


a_friend_in_mead


AA




BF

BS




LP




ESB

3

Bog_Myrtle


AA




BF




BS




LP




ESB

3

Hendrixcat


AA




LP



BS

BF


ESB

2

Poc

BS

ESB


AA



LP


BF

0

Sbillings


BF



BS

AA

LP


ESB

0

TheBeerNut

AA


BF




BS




ESB




LP

5

Total no. of guesses


4AA

, 1BF, 1BS

3BF

, 1BS, 1ESB, 1LP

4BS

, 2AA


4LP,

1BF,

1ESB

4ESB,

1BF,

1LP




The most striking feature is how often ESB and London Pride were mistaken for each other. The Fuller's yeast is obviously a very distinctive strain, and its effect on how the beer tastes is much greater than that of the malt and hops. If those who mixed these two up had put them the right way round, we would have been scoring 4 out of 6 correct answers on all but Bishops Finger, which had a respectable three right guesses.

The thinness and powerful skunk aroma of Greene King's Abbot Ale marked it out to most of us, and was definitely the least favourite of the five sampled. Only Poc failed to spot this as beer from clear glass, with sbillings guessing it was Bishops Finger.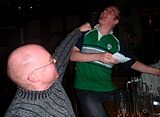 Bishops Finger itself was correctly identified three times, but all three incorrect answers guessed it came from a brown bottle, suggesting that the Bull & Castle knows how to keep this beer in an appropriate state of sensory deprivation.

I managed to limit myself to a modest amount of victorious showboating in a_friend_in_mead's not-so-smug-now face, since -- like all of ICB's real-life events -- this was much more about getting together, having a laugh and learning about beer. With the blind tastings you also learn a disturbing amount about yourself into the bargain.

So, who wants to choose weapons for the next rematch?
View all pictures from this event.
Discuss this item in the forum.