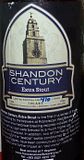 Voting has closed on the 2012 Beoir Beer of the Year Awards.
We are delighted to announce that Shandon Century Extra Stout from the Franciscan Well Brewery in Cork City has been chosen as the Irish beer drinkers' favourite beer for this year.
Second place was awarded to Windjammer, an amber ale produced by Metalman Brewing of Waterford, and third place also went to Metalman for Metalman Pale Ale.
Congratulations to the winners and thanks to everyone who took part in the voting.