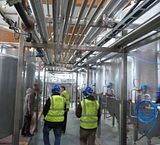 They don't go in for half measures at the Boyne Brewhouse. The 30hL Kaspar Shulz brewkit was commissioned last October and occupies just one part of the large facility based in a former car showroom by the M1 just outside Drogheda. When a Beoir delegation visited yesterday things were very much a work in progress, with extra fermenters due to come on-stream shortly, a bottling and canning line going through final checks before commissioning, the copper stills of the Boann Distillery awaiting their turn to be hooked up, and a gin still still in bubblewrap in its crate. When the facility is complete it will incorporate a visitors' centre and restaurant as well as a vast warehouse for maturing the whiskey.
The whole lot is owned by the Cooney family and trades under an independent umbrella company which uses the Irish form of the family name: Na Cuana. Pat Cooney bought the Gleeson bottling company in the 1970s and built it into one of the largest drinks firms in Ireland, producing, importing and distributing wine, soft drinks, cider and liqueurs. There was also a brief foray into beer with Behan's Brew No. 1 lager in the early 2000s. Then in 2012, Gleeson's was acquired by C&C, though the cider and cream liqueur arms have remained with the family and are still produced in separate facilities in Tipperary. Now the company has passed to the second generation of Cooneys, adding spirits and beer to the portfolio and expanding the cider range from budget brand Devils Bit to include a mainstream Bulmers competitor as well as a craft brand, Four Keepers, all of them produced from cider apples grown in the family's own orchard. After the sale of Gleeson's to C&C, there was money available. A distillery and brewery was the end result.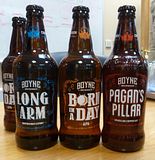 Production in Drogheda is headed by brewer and distiller Áine O'Hora who came to the company via Matilda Bay Brewery in Melbourne. Initial plans are for three core beers: Born in a Day pale ale which is already in pubs; Long Arm, a 100% Saaz Dortmunder-style export lager; and Pagan's Pillar, a traditional Irish red given a German twist with Mandarina Bavaria hops. All are 4.8% ABV and will be sold kegged and in the brewery's distinctive custom-embossed bottles. Specials and seasonals will follow in due course and the state of the art packaging facility behind the brewhouse allows for large-format bottles. Canned beer is also being planned. Though the bottles are pasteurised, a 26-metre-long tunnel pasteuriser allows a light touch, with the beer never going over 60°C. In keeping with a philosophy to use local ingredients where possible, malt is supplied by Loughran Family, topped up by speciality varieties from Weyermann.
Unusually for a start-up brewery, there's almost no room for expansion. The company has opted to go straight for the largest size possible -- capable of producing 35,000 hL of beer per year though the intention is to remain under the limit for the microbrewers' lower rate of duty.
The potential of the brewery and its suite of sister products is enormous. Na Cuana is set to become a major player in Irish beer and cider in the months to come as well as being a major tourist draw for Drogheda.
Many thanks to the Cooney family and Áine for their hospitality during our visit.